Class timings: when and where
Classes are taught in fluent Dutch and/or English.
Styles of yoga
Vinyasa Flow
Vinyasa is a dynamic style in which we move from one posture to another in a flowing movement. This creates a stimulating flow in which things seem to just happen by themselves and your mind will become peaceful and quiet. This is further stimulated by synchronizing the movements to the beat of the music and your breathing.
The classes are vivacious/demanding but suitable for all levels (the numbers indicate the level of a class, 1 being for the beginning practitioner, and so on). Level 1 focuses on learning the basic yoga postures strengthening the lower back, abdominal muscles, legs and upper body. Level 2 elaborates on the knowhow of level 1 and it becomes more flowy as we move from one posture to another with less explanation. You will also discover new postures. Level 3 is all about flow with different and challenging postures. During all classes there is attention for proper breathing and body alignment (according to your personal physical possibilities).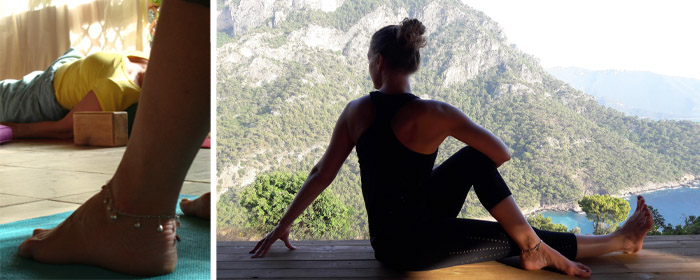 Restorative Yin
During a yin practice we stay in poses for several minutes, supported by blankets, bolsters and blocks. The focus is on stretching muscles and fascia in a safe and constructive way in order to let go of tightness and stress in combination with deep and relaxed breathing. Yin yoga is a wonderful compensation for our often active and therefore yang dominated lives.
 "Meditate each day for half an hour, unless you are very busy, then meditate for an hour!"
~ Buddha
Yin Yang
A balanced mix that combines energizing, active postures in a flow (yang) with the soothing, longer held and supported ground postures of yin practice.